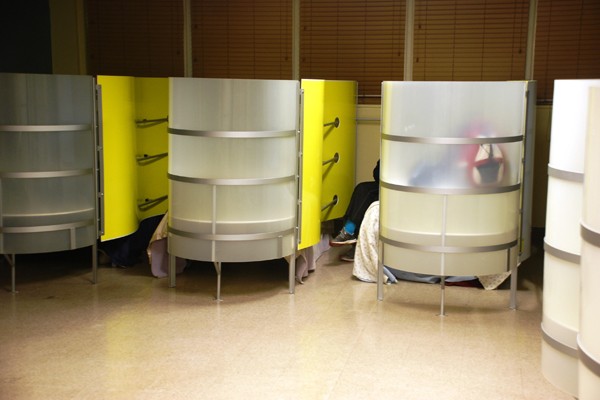 Transitional Housing Booths Installed @ Women of Change Safe Haven
Spring 2012 Design X students of the socio-political design-build studio collaborated with Project HOME, the largest private homeless advocate in the Philadelphia region, on the design and prototyping of homeless shelter constructions including sleeping 25 dorm privacy partition stations and community room screening benches. PhilaU Occupational Therapy students offered programming and critique assistance. Cavo Design, a steel fabrication firm led by PhilaU alum, began fabricating the privacy partitions in July, 2012. The partition system has been assembled and installed at @ Women of Change Safe Haven this past weekend.
For the Design on the Delaware Conference and Trade Show 2012 in Philadelphia, David Kratzer lead a presentation on the interdisciplinary project with Paul Sassani, Project HOME; Marc Caccavo, Cavo Design; and three students who who participated in the studio.
Phila U. students design and build transitional living booths for local homeless shelter
December 12, 2012

By Meg Frankowski for NewsWorks

The shelter is located on Arch Street in Philadelphia.

The Women of Change Safe Haven shelter, located at 2042 Arch Street, received a fresh look, integrated storage and improved privacy thanks to a group of 14 ambitious architecture students at Philadelphia University.

Read full article
This entry was posted on December 12, 2012
---